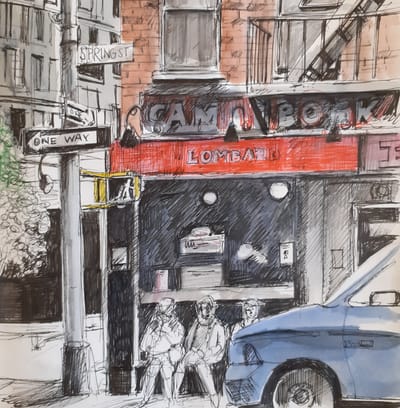 Andrew Casey
Studied at the Leeds College of Art
Andrew has recently produced one drawing a day from his flat of the views around him including roof tops, trees, vans and bins. These A5 studies, using a range of different media, will be displayed in Woodbridge later on in the year and sold for about £50 each with all proceeds to the the NHS.
He is currently running on line art and life drawing classes for artists, beginners and refreshers (see events page)
Andrew is a practicing artist and has exhibited his work both in London and locally at the Denis Taplin Gallery in Woodbridge, the Pond Gallery in Snape and the Upstairs Gallery in Beccles.
He has been associated with the Ipswich Art Society (est. 1874) since the mid eighties and is an Honorary member. In 1987 Andrew formed the Young Blood group to promote the visuals arts created by young people
Andrew is a well established author on the subject of twentieth century design chiefly ceramics. He has written several books on the subject and lectured in several prestigious venues such as the Victoria and Albert Museum, the Royal Society of Arts and the Morley College in London. In 2004 he was invited by the Ceramic Society of New South Wales to lecture on the subject of twentieth century ceramics at the Power House Museum in Sydney and the Royal Melbourne Institute of Technology.
His book,
Twentieth Century Ceramic Designers in Britain
, was awarded the Besterman/McColvin Gold Medal for the most outstanding work of reference, published in 2001, by the Chartered Institute of Library and Information Professionals.His latest book Lucienne Day: In the Spirit of the Age, published by the Antique Collectors Club, was launched at the Fashion and Textile Museum in London in 2014.
Andrew has collected the work of ceramic designer Susie Cooper for over thirty years. In February this year he appeared on a Japanese television programme discussing his collection.
Recent Exhibitions:
Borders Exhibition, First Site, Colchester, July-August 2020
Small Works, Art Space, Woodbridge, Suffolk, October 2019
Ipswich Art Society Annual Show, Ipswich Art Gallery, July 2019